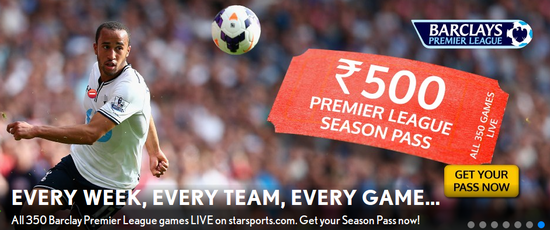 Star sports have introduced live streaming of various sporting events over internet for PCs and mobile platform on a subscription basis. It was in a limited beta for sometime and is now available for many countries like India, Pakistan, Bangladesh,Nepal, Sri Lanka, China, Taiwan, Indonesia, Malaysia and etc with geographical restrictions based on the sporting event. Available on a daily package and annual subscription model, these events include Cricket, Football, and many other events and promises HD quality video with adaptive streaming based on the bandwidth. Apart from the live streams, users can view replays, select match highlights, stats and etc.
With multitude of packages available from selection, one can opt for a single sporting event like Champions League T20 series, single all-day subscription, or season long subscription. Starting at Rs 50 per day for an all-day subscription it goes upto Rs 800 for a All season football package that covers Premier League, La liga and Serie A. Some of the packages currently available include:
Australia In England ODI Series Pass
La Liga Season Pass
Premier League Season Pass
15th September All Sports Day Pass
Champions League T20 Pass
Also available are the apps for Android as well as iOS platforms using which one can watch the live streams of the matches.
While the live stream can be accessed by upto two devices simultaneously, one will have to pay from the third device onwards. Not bad considering the prices and at 300 kbps desired speed, this should be a good bet!
Related: