UPDATE [May 2014]:
With the latest versions of Falcon Pro, muting tweets is much easier. Just press and hold on a tweet in the Falcon Pro and a bar appears down, below the tweet (as highlighted in yellow below), Select the more (vertical tile) button and select Mute. You can now instantly mute based on the user, a phrase if there is a hashtag.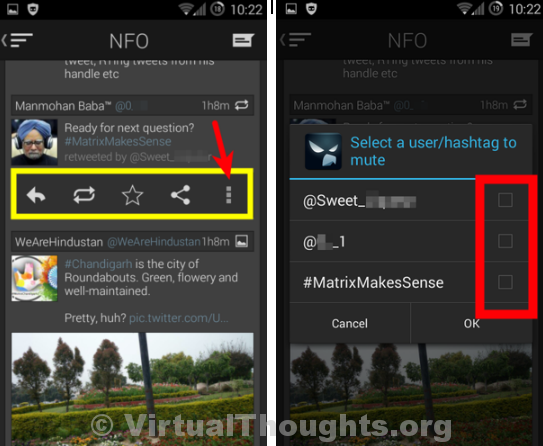 ————————–
There are only handful of twitter clients for the Android mobile that provide filtering or muting tweets and users. Here are steps to use the Mute or filter unwanted tweets option in Falcon Pro app for Android Mobile.
1. Open Falcon Pro
2. Slide across the screen to access the Settings
3. Select Manage Mutes
4. Select Add Mute Keyword
5. Although it says only keyword, you can also mute or filter users. Just add @ and add username to filter
6. Select OK. You are done.
Related: