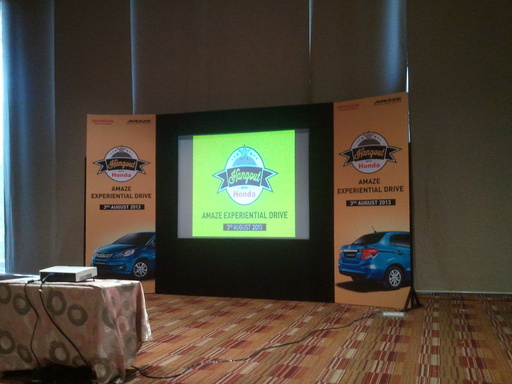 Over the weekend I got an invite from Honda Cars India for an experimental drive of their latest car Amaze. Called as Hangout With Honda, this is an initiative by Honda to connect with the bloggers, auto-enthusiasts through events like interactions with Honda Management & Product team, test drives, online and offline contests. This event had representatives from Marketing, Product & Management of Honda Cars India. After a brief run down on the Honda principles, their philosophy, the reasoning behind their first ever diesel vehicle in India we were explained about the Amaze car specifications. Built on Honda's program called Earth Dreams Technology, Amaze is the first diesel car from Honda with 1.5 Litre i-DTEC engine. Our demo car was a top end model and it came loaded with features like adjustable seat heights, electronically foldable rear view mirrors, In Car Entertainment, Steering mounted controls for audio, lighter/charging port, usb port, aux input to plug devices like ipod etc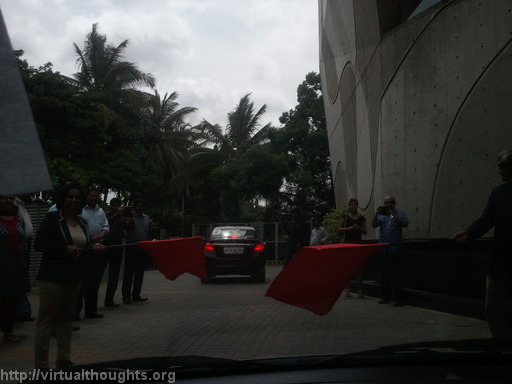 We later set about on the hands-on drive, there were about 5 demo cars, three petrol and two diesel. We got a diesel car to play around with, although I was wishing to checkout an automatic transmission, it did not materialize. Our destination was a Cafe Coffee Day at about 30 odd kilometers from the city. While others were busy speed testing we were economical and experimental in our drive enjoying the nuances of the car. Talking about economical drive, this car has a Eco-driving mode indicator on the dash board and is lit up when you drive at an optimum speed. Driving in Eco-mode helps in maximizing the mileage. Am sure for a country obsessed with "Kitni dethi hai" this eco-driving mode is a pretty appealing feature.
While the company claims the mileage under ideal testing conditions is 26kmpl for diesel, we got about 22 kmpl for a total journey of about 80kms, with 4 people on board, with 90% AC and 20% city driving.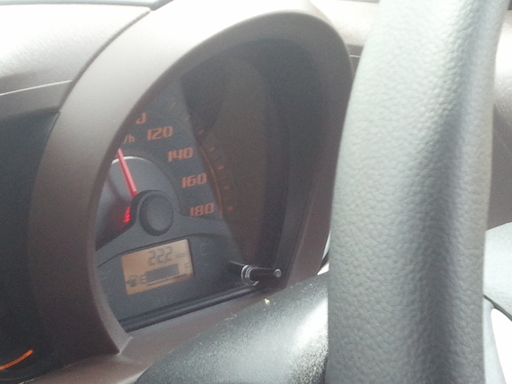 No wonder that our eco-driving also won us the first prize is the mileage contest which was organized as part of the event 🙂 In comparison to the Swift Dzire diesel that I had driven a few weeks back, I felt the handling and drive-ability of the car to be excellent. Gear shift knob is short and gives a sporty feeling and I did not have to exert additional effort while changing.
Another standout feature in this car apart from Eco mode is spacious interiors and one of the best amongst the cars in this segment. Even with co-passenger seat pulled to the back, a six footer can easily sit in the passenger seat behind. The boot of the car is spacious and could fit 5-6 cabin luggage easily. We were able to fit in 5 empty cabin suitcases and a backpack in the boot all under 22 seconds and incidentally this also won us the first prize (I believe Honda were running online contests too with a hashtag #amazesmeontheroad, check their twitter page for details).
We were told that Wind shields come with heat absorption capabilities, a first in this segment and pretty much needed for a tropical country like ours. A few things that I felt could have been better or were found to be short includes a horn that is feeble. There is no bluetooth feature in the factory fitted In Car Entertainment unit in the car either for playing music or for taking calls. Not sure if it was the excess polish or jet black color, but i felt the color of the dash could have been a bit lighter. The car interiors are predominantly beige in color except for the dash, which also has a shade of brown apart from the beige and black.
I have not gone onto include the in depth technical specifications or experience as this was not intended to be a review. At the end of the event we had a feedback session with the Honda team. The folks from Honda took our feedbacks positively on what could have been made better and I enjoyed this initiative from Honda on connecting with the people.