UPDATE July 25th 2013:
The numbers to receive traffic alerts have changed. New Number to subscribe according to Bangalore Traffic Police, as per their FB posting is as follows:
send an SMS  <JOIN BTP> to 9243511777
Via EMails:    <JOIN BTP Email id> to 9243511777
To Stop Alerts <STOP> 9243511777
—————————————————–
If you are about to start for the day or returning home from office and often find yourself struck in traffic jams, here is some good news. Bangalore Traffic Police in association with GupShup have launched (was operational long time, stalled and again working fine after recent SMS cap/day) SMS or text based alerts that will keep you posted on traffic jams and other traffic related activities.
It could be disruption due to sudden breakdown of a lorry/bus or no parking on main roads due to movement of a VVIP, you will get real time update of the traffic situation in Bangalore. BTP also conducts awareness and public interaction programs once in a month that you can attend at your nearest traffic police station for which you will also get alerts.
I have been relying on their updates to plan my travel and have found it very useful and must also say that I have never felt spammed or received any unsolicited messages.
Here is how you can subscribe to alerts on your phone:
send an SMS  "JOIN BTP" to 09219592195
You can even join online by entering details here http://gupshup.me/groups/BTP
After a while you will get confirmation message from BT-Gupshp while the actual traffic alerts will have prefixes like xx-BLRTF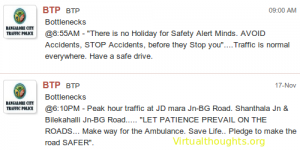 Here's wishing you a Happy & Safe Driving