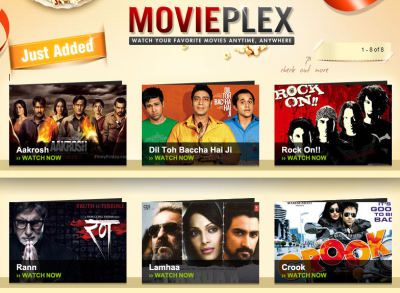 Looks like the competition for Indian Movie Screening space just got hotter on the web too! After Google had launched their Indian movie channel on YouTube, its now the turn of Yahoo! Yahoo India today announced the launch of  Yahoo Movieplex that showcases full length, licensed Indian movies online for free.
Currently there are about 8 Bollywood movies that can be watched online including Rock On, Dil Toh Bacchha Hai Ji, Rann, Aakrosh,  Rakth Charithra 1 & 2. Google had launched a similar offering sometime back and currently has about 50 Indian Movies for online viewing including Hindi, Kannada, Tamil, Telugu, Marathi & Bengali. Although not aimed at curbing piracy, the online availability of these movies will go a long way in generating new revenue streams for the film fraternity and also enable access to growing internet population for advertisers. This is well summarized by the quote from Yahoo's Arun Tadanki.
Mr Arun Tadanki, Yahoo! India Managing Director said: "Over 30 million Internet users consume 1.7 billion videos every month across India. With the increasing demand for online video, both consumers and content providers are looking for a trusted destination where quality content can be consumed in a piracy-free environment at their leisure". I am off to watch Beja Fry 2 now…where are you headed to?