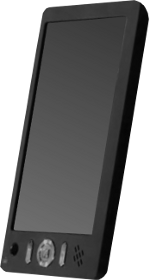 After prolonged skepticism over the announcement of a cheap computing device aimed for students, Government of India kept its promise and launched today the world's cheapest computing tablet called Akash. Initially dubbed as Sakshat, it was later rechristened as Akash (Akash means Sky in Hindi/Sanskrit).
While launching this tablet, Human Resource Development (HRD) Minister Kapil Sibal quoted: "It is a milestone in history. It will bring a paradigm shift in education delivery. The rich have access to the digital world, the poor and ordinary have been excluded. Aakash will end that digital divide,"  while launching the product. Developed and manufactured in India, Akash is collaborative project by Indian Institute of Technology, Rajasthan at Jodhpur and DataWind Ltd, a UK based company.
Apple may have hogged all the limelight and space in today's newspapers and websites with iPhone4S launch, but Akash too has the online world talking about it. Priced at INR 2,250 (approximately 35$) this 7-inch tablet runs on Android 2.2 and has resistive touch screen with 800×400 resolution, supported by a RAM OF 256MB has an internal storage of 2GB and expandable upto 32 GB, 2 USB ports. Bundled software include Document suite, media player, PDF reader. Detailed specs are as follows (as per HRD website).  Although, targeted for students, there will be another version of this device that will be sold commercially and priced at around INR 3000 (approximately 60$) and is called as Ubislate.
Hardware:
–        Processor: 366 Mhz with Graphics accelerator and HD Video processor
–        Memory (RAM): 256MB RAM / Storage (Internal): 2GB Flash
–        Storage (External): 2GB to 32GB Supported
–        Peripherals (USB2.0 ports, number):  1 Standard USB port
–        Audio out: 3.5mm jack / Audio in: 3.5mm jack
–        Display and Resolution: 7" display with 800×480 pixel resolution
–        Input Devices: Resistive touch screen
–        Connectivity and Networking: WiFi IEEE 802.11 a/b/g
–        Power and Battery: Up to 180 minutes on battery.  AC adapter 200-240 volt range.
Software:
–        OS: Android 2.2
–        Document Rendering
–        Supported Document formats: DOC, DOCX, PPT, PPTX, XLS, XLSX, ODT, ODP
–        PDF viewer, Text editor
–        Multimedia and Image Display
–        Image viewer supported formats: PNG, JPG, BMP and GIF
–        Supported audio formats: MP3, AAC, AC3, WAV, WMA
–        Supported video formats: MPEG2, MPEG4, AVI, FLV
–        Communication and Internet
–        Web browser – Standards Compliance:  xHTML 1.1 compliant, JavaScript 1.8 compliant
–        Separate application for online YouTube video
–        Safety and other standards compliance
–        CE certification / RoHS certification
Other: Additional Web Browser: UbiSurfer-Browser with compression/acceleration and IE8 rendering.
Related Topic: Android Apps For System and Network Administration