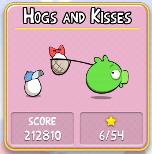 The most popular game on mobile platform The Angry Birds has two new updates. One to the base game with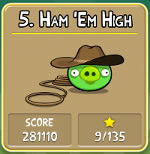 level called HAM 'EM HIGH and another to the Seasons edition called Hogs And Kisses keeping up with the Valentine's Day. These updates were released on multiple platforms yesterday and the update was available for download from the Android Market within hours.
Ham Em High has a cowboy'ish touch to it. The theme and the background resembling the locations and folklore of Cowboys. While Hogs and Kisses is predominantly pink, red and floating hearts with the spirit of Valentine's day very much evident. Both these updates are 14 MB approximately with each one having 8 games of 3 sub-levels each.
Related reading: