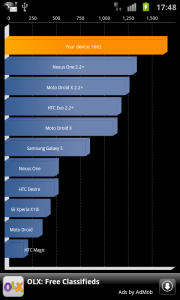 If you are one those geek who's keen on knowing the performance levels of your Android Phone, then Quadrant App for Android might just be the one for you. Quadrant gives the following parameters for your Android phone:
– 2D and 3D Graphics performance
– CPU performance
– Memory performance
– File system performance
Although it takes 2-3 minutes for the app to run and compile the results, it carries out numerous tests to measure the performance of your phone in terms of the parameters listed above. Customized benchmark tests are available in Pro and Advanced versions. You can also get to view a detailed system information of your phone using this app.
Do note that support for the phones are wanting to run Quadrant is currently limited. Requirements include phones to have Open Graphics Library support, requires internet connection and standard version is ad based.
While the performance of the phones may not be same on the firmware provided by the vendor, folks that are open to Rooting /hacking / Modding their phones are the ones that benefit either by lagfix or overclocking. Here is a snapshot of the Quadrant score on a rooted Samsung Galaxy  S phone running Gingerbread 2.3.4. Benchmark scores of the Android phones running vendor firmwares are also included in the snapshot below, while the rooted Galaxy S has a score of 1221 🙂
Related Articles: