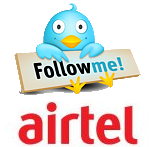 Bharti Airtel, today announced that it will offer free access to Twitter for all its mobile customers in India. This is a limited period offer till March 2012 and can be availed by either accessing the Twitter's mobile site, or using SMS shortcodes. Airtel was also one of the few mobile carriers around the world and first in India that partnered with Twitter to provide SMS codes for accessing Twitter services in 2009.
Here is what Airtel's Chief Marketing Officer N Rajaram had to say about this offering during the press release "Today's discerning Indian customer is increasingly relying on the mobile device for accessing everything from emails to music to social networks. In conjunction with this trend, we are pleased to introduce 90 days of free access to Twitter for mobile users in India".

Here is how you can get free twitter access on Airtel:
Twitter's mobile website: Visit http://mobile.twitter.com (either with or without GPRS subscription), follow the sign up process by entering your mobile number!
USING SMS: You will need to send SMS with START to 53000 to begin the process of opening a twitter and go on further.  Additional details are available at www.airtel.in/twitter
Related Posts: