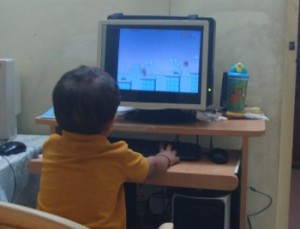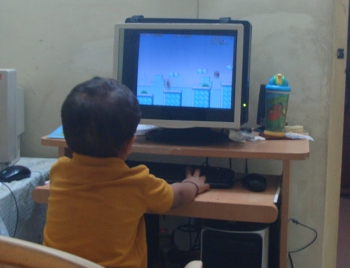 Ever since my two and half year old toddler started to play around with my laptop I was thinking about resurrecting my old desktop computer which I hadn't used in ages. The next step was to look out for what is available in the market that qualifies to be called Kids Operating System so that apart from playing games, watching cartoons, learning is also incorporated in it. But at this point of time, my focus was on ease of use and availability of applications that are of interest to kids (games, rhymes, stories and etc)
Although hardware was not a worry for me, I came across some observations. Almost all of the Kids OS is developed using Open Source and there are hardly any commercial ones. Importantly for we parents the interesting part is that you need not tinker your existing operating system or hardware much and most of them are available for free. You could just leverage virtualization, yes. Just go and grab a free copy of VirtualBox
and you are ready to start a whole new computing experience for your kids.
Here are some choices for Operating System for Kids:
Edubuntu
http://edubuntu.org
Ubuntu (8.1 onwards) has an addon-module dedicated exclusively for kids and it is called Edubuntu. I found this fun to use and operate, and it has lot of applications like gCompris, periodic tables, arithmetic tutorials like fractions, drawing, touch typing, games like chess, connect4 etc. All the features that are available on the regular Ubuntu OS is also available in this, meaning Open Office, GIMP, Web-browser, email client etc.
However, since this is an Addon Module and not available as a separate OS, you will first need to install Ubuntu and then download this module as an ISO file and use the updater (Synaptics Package Manager) in Ubuntu to add it to the base OS. Unlike Ubuntu, you cannot get a free Edubuntu CD shipped…but that shouldn't be a worry as download caps and speed are improving in India.
Edubuntu has also categorized different bundles, which contains applications suitable for a particular age group:
Preschool ( < 5 years old)
Primary ( ages 6-12)
Secondary ( ages 13-18)
Tertiary ( university level )
Qimo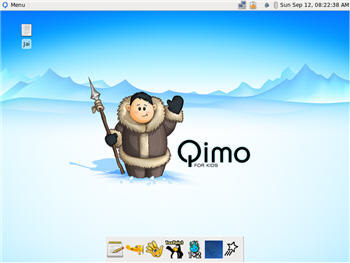 Based on Ubuntu Linux and Free to Download and install, it is also available as a Virtual box image and primarily targeted for Kids 3 years and above. Unlike Edubuntu, you need not install Ubuntu as a base. Qimo needs a minimum of 256MB of memory to run from the CD, or 192MB install. At least 6 GB of hard drive space is recommended, and a 400MHz or faster CPU.
Since both Qimo and Edubuntu are based on Ubuntu, they have many similar features. But installing and configuring Qimo is easier and has lesser steps compared to Edubuntu. Also, I found the Qimo OS much more attractive in terms of ease of use, layout, coloring and the feel of a typical Kids OS. Running Edubuntu on Ubuntu still gives you a feel of elders Operating system. But you could still customize the feel.
Kiddix
http://kiddix-computing.com


This too is based on Linux and Ubuntu in particular but this is a Commercial Operating System, meaning its a paid software. Their page however says that they are going to open the source code soon. You can download the Operating System setup files in the ISO format for as little as 10$. and install on your existing hardware. You can also purchase the hardware, ready with the OS for approximately about 300$.
Kiddix also comes with built-in Parental Control and mobile support.
I am yet to download and install this. So a review on this around the corner. Till then, take a look at their demo:
KidOS –
www.kidoscomputer.com

There is a new entrant on the block called KidOS which is based on Adobe AIR platform and requires Internet connection. The homepage says it still is in beta and currently I was able to run it on Windows 7, although it OS independent and only dependency is is Adobe AIR. Applications and modules can be downloaded for a price.
As a parent you will first need to create an account providing your username and set a password and add child accounts. Looks like an innovative concept but requires an internet connection all the time to have some meaningful interactive experience. Moreover, you will need to pay and download content…
Any other Alternative?
I also found out that instead of allowing him to use the laptop directly I could provide him with a separate Keyboard (preferably USB) as the keys are delicate on the laptop and could come off easily. I faced this situation sometimes as my Kid would press the keys randomly sometimes and also pullout those keys as an expression of frustration. So he currently alternates between an old desktop with Windows OS and sometimes on my laptop when there is no electricity and he is desperate to play SuperTux game.
One advantage with Windows OS is that there are lot of games readily available and familiarity with Windows amongst family members may pose second thoughts on Linux. Apart from the familiarity part, Open Source based OS really score high in terms of package and future development. They would also inculcate the habit of sharing/giving back to the community.
Related: