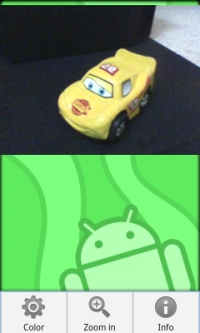 UPDATE [July 14th 2011]: How To Use Front Facing Camera in Samsung Galaxy S
One of the first things I checked after I got hold of Samsung Galaxy S was the camera, specifically the front facing or the secondary camera. But I was in for a surprise when the Camera Application could generate the pictures from the Primary camera at the back. Checked the settings in and out but could not figure out the access to Front Facing Camera till I found out that there is no native app as of now to leverage the front facing camera in Galaxy S.
The front facing camera is however invoked when you use the Video Calling feature (the bottom right button in the dial pad) and also by applications like Skype and Fring but I was looking for an application that could take pictures and probably also have addons like avatars etc. As of now there is a Mirror App. Like the name goes it mirrors and just that, but you cannot take pictures from it as of now. You can also use zoom feature in this app and only today there was an update released for it.
When I last checked on the web, there were issues with Skype on Galaxy S with Android 2.1 and I have not been a big fan of Fring either. So I have not bothered to download those apps.
So in case you are wondering how the heck I get to use the Secondary Camera on Samsung Galaxy S, you know the workaround. I call it workaround because there is no way to take the picture as of now…and am waiting for an answer as well
You can download the mirror app from here:
http://www.appbrain.com/app/com.codeiv.SamsungMirror
Update (29/11/2010):
With Froyo (Android 2.2) upgrade for Android based phones, you can now use the Front Facing Camera or the Secondary Camera with the native Android application. However, you can take images only, video is not possible with the secondary camera, using this application.
Update (12/05/2011):
With Gingerbread (Android 2.3.3 running XXJVK) firmware, the app is force closing. However, you should be able to use the native android application to leverage the secondary (front facing) camera in Samsung Galaxy S.